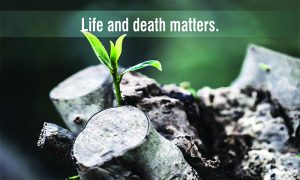 End-of-life planning
You are not ready to live until you are prepared to die.  If you choose to start the end-of-life conversations now, your surviving loved ones will end up with more clarity and unity.  You can embark on this conversation by accessing the Living Matters website at https://livingmatters.sg/, under the national Advance Care Planning programme (ACP).  After you have completed a set of questions that deal with your future care preferences when your medical condition sets in, you can share them with your loved ones.   This formal document informs your loved ones in advance of your preferences for future health and care arrangement.
Secondly, if you are above 21 years old and have the mental capacity, you can download an Advanced Medical Directive (AMD) Form from the Ministry of Health's (MOH) website and sign it in the presence of your doctor and another suitable witness. After you have signed it, you send it to the Registry of AMDs, MOH.  The AMD is a living medical will and a legal document which informs the attending doctors they can pull the plug instead of prolonging your life with extraordinary life-sustaining procedure and treatment, when you become terminally ill, unconscious and death is imminent. As a legal document, the AMD overrides any of the objections by your loved ones.
When do you need a lawyer?
Thirdly, you may plan in advance by signing a Lasting Power of Attorney (LPA) and register it with the Office of the Public Guardian (OPG), which administers the LPA regime under the Mental Capacity Act (MCA).  We can assist you in explaining the different clauses in the LPA and their effects.  We can certify the LPA and send it to the OPG for registration.  Under the LPA, you can appoint one or more next-of-kin to act on your behalf, to safeguard both your personal and property interests, when you become mentally incapable of managing the same.  The person[s] appointed are called Deputy(ies), who have to observe strict guidelines and a Code of Practice.
Fourthly, you may instruct us to draw up a Will.  For a Will to be valid, it has to comply with some formal requirements of the Wills Act.  We can assist you in drawing up your Will, which can be simple or complex, independent or mutual (in the case of spouses).  We can advise you on the clarity of clauses, including the common disaster clause and contingency clauses.  Unlike the AMD, ACP and LPA, a Will only takes effect after your death.  It is a legal document that gives specific instructions to your appointed personal representatives (Executors) to deal with the division of your assets to specific persons or organisations you want to benefit or inherit from your Will (Beneficiaries).  If you do not have a Will, your beneficiaries will inherit under the rules of distribution under the Intestate Act.  You can also create trusts in your Will.  Trusts are legacy-planning tools that are useful to protect or provide for vulnerable beneficiaries, like minor children, persons with special needs, elderly parents, young adults who cannot handle money or a spouse whose husband's high-risk business is exposed to creditors.  When there is a Will, there is a way.  We have acted for Executors in both uncontentious and contentious probate and citation proceedings.  We can offer you a steady hand to guide you through the process to alleviate your pain during the period of bereavement.
Appointment of Deputy under the MCA
 Life is unpredictable.  There may be a situation when a person close to you has lost his or her mental capacity to draw up a Will or sign an LPA. In this case, we can help the relevant applicant to apply to the Family Justice Courts for an order for a next-of-kin to be appointed as a deputy, solely or jointly with another next-of-kin.   We will also advise you on the relevant powers to be included to manage the personal welfare and property of the patient who suffers from a diagnosed mental disorder or incapacity. From drawing up a Will, to registering an LPA or applying for a Grant of Probate or Letters of Administration, to applying for the appointment of a deputy under the MCA and advising you on the principles of law and procedure in each case, we offer you a helping hand and a legal mind to walk you through the life and death matters.
Call us at 64352933 or fill in the form below